Profile Series - Aluminium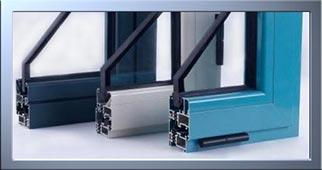 Aluminium profiles are extremely hard and provide excellent static stability of the installed elements. In addition, they are very light, have a long life and provide great opportunities to combine with other architectural elements.
Aluminium doors and windows are usually made in several varieties:
• Thermal (with break) - Thermal profile has two separate chambers separated by a plastic that serves as a thermal break - it does not allow outside air to mix with the internal. This prevents condensation, and it gets better thermal insulation. • Cold Aluminum - is suitable for interior partitions, shops or places with a constant temperature. • A combination wood / aluminum - is also a very good combination where the inner side is coated with wood and exterior is made of aluminum. Aluminium profiles are processed on the surface, colored and protected by anodizing (anodic oxidation), or coating. Anodized aluminum is often painted in stainless steel color (from light to dark), bronze, gold or natural aluminum color. Coated aluminum can be painted in any color of RAL palette. The choice is really huge so that designers and architects have free hands in designing. Anodizing, ie. anodic oxidation is protection that is applied in a thin layer of 15-20 microns. This procedure provides a special metalized color and lasting protection against corrosion. Although with a limited selection of colors, this type of protection is very popular for a nice aesthetic look and feel. Plastic coating is another way of processing aluminum that provides a wide range of colors and is therefore adaptable to any design. Profile is first cleaned by a special procedure after which a powdered colour is applied by electrostatic paint gun. Color is then dried in an oven at 180 ° C to achieve polymerisation - a chemical reaction of networking and blending the powder particles. Thus, a colored layer that has excellent properties is obtained: • thickness of only 70-100 microns • exceptional adhesion to the substrate • good coverage area • excellent compatibility with pigments • does not yellow and does not lose color • good water-resistance • excellent resistance to UV rays and other weather conditions. Space systems are a dominant group of Alumile. They are designed for every space applications, such as doors, windows, facades (walls), atriums, office towers for windows, etc.. and cover all needs. ALUMIL has 48 different spatial, aluminum systems for all applications, needs and requirements, as well as 18 special applications. ALUMIL aluminum systems are distinguished by constructional perfection, modern planning and endurance, while at the same time offer high aesthetics and functionality. Also, the compatibility allows various combinations. In accordance with the specifications of internationally recognized organizations, emphasis is placed on quality assurance of finished products, affirmation of products and production processes. ALUMILOV studies and develops many new products. Then these products are sent to international institutes to accomplish control and assign certificates (eg Rosenheim ITF). The most popular are aluminum systems that provide a high level of weather and sound insulation, and with maximum safety and aesthetics. Open systems provide numerous opportunities (with a cold or thermal break). Main features: • Multiple applications • The appropriate solution for each specific need • Variety of accessories • Windows (single, double, triple) blinds, shutters or blinds are available.